Literature, Toy, and Memorabilia Show for Porsches and Vintage VW's
Saturday, February 24th, 2024 at the LAX Hilton Hotel
Read about the 2023 lit meet weekend in
Autoweek
"With over 300 vendors, bus tours of local Porsche shops, and open houses galore, LA Lit & Toy Show is much more than a memorabilia collection. Mark your calendars for next year's event now."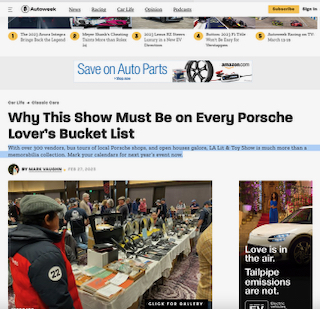 The 40th annual porsche and vintage vw literature, toy & memorabilia meet
Brought to you by Stoddard NLA LLC
Saturday, February 24th 2024
The LAX Hilton Hotel
5711 West Century Boulevard, Los Angeles CA 90045
Stoddard NLA LLC
(800) ­342 ­1414 | (440) 869-9890 | LALit@Stoddard.com


Copyright © 2023 L.A. Lit and Toy Show. All rights reserved.