Literature, Toy, and Memorabilia Show for Porsches and Vintage VW's
Saturday, February 26th, 2022 at the LAX Hilton Hotel
Save Time By Buying Your Lit Meet Tickets
Online Through EventBrite!

Event Brite 2022 registration link coming soon
Read about the 2020 lit meet weekend in
Porsche 356 Registry
Volume 44, Number 1
By Prescott Kelly
"The 37th annual L.A. Lit & Toy Show, held on Saturday, February 29, at the Los Angeles Airport Hilton Hotel, was a resounding success despite the beginnings of both the stock market decline and the coronavirus spread in the United States. All of the roughly 320 vendor tables sold out again, and overall spectator/buyer entries were up a tad, despite the lastminute absence of some pre-booked shoppers. The early birds—7:30 a.m. entries ($30)—were up a little, as the real enthusiasts wanted to be there while the pickings were prime."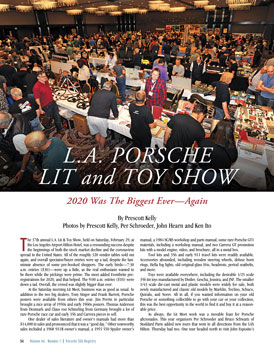 The 38th annual porsche and vintage vw literature, toy & memorabilia meet
Brought to you by Stoddard NLA LLC
Saturday, February 26th 2022
The LAX Hilton Hotel
5711 West Century Boulevard, Los Angeles CA 90045
Stoddard NLA LLC
(800) ­342 ­1414 | (440) 869-9890 | LALit@Stoddard.com

Copyright © 2021 L.A. Lit and Toy Show. All rights reserved.